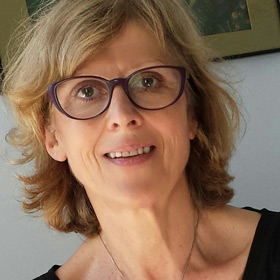 Marion emigrated to the USA in 1983, after working for several years as a therapist at the Service de Placement Familial, à Nancy, a Foster care agency.
She has a diploma in Psychopathology ( post MA degree) at the University of Nancy II and has also studied Freudian psychoanalysis.
She was interested in somatics, and upon her arrival in the USA, became a certified Polarity Practitioner .
She studied mental imagery with Dr. Gerald Epstein, NY and Colette Aboulker Muscat, Israel.
She then discovered the field of Energy Psychology and was trained by many leading teachers.

She is 
a member of the teaching faculty of IFPEC
 , 
The French Institute for Clinical Energy Psychology
 , based in France.
She teaches EFT and Matrix Reimprinting , the USA, France and Canada (Quebec).
She is the French representative for ACEP-Association for Comprehensive Energy Psychology – American association of all the techniques of energy psychology.
She welcomes clients in West Hurley NY, where she resides and also works remotely via Skype.
Contact
Masters in psychopathology University of Nancy II
Advanced Practitioner certified EFTUniverse
Diplomate in Psychology energetic for ACEP (Association for Comprehensive Energy Psychology)
ACEP representative for France
Sole Trainer in France for Matrix Reimprinting
IFS Internal Family System Level 1 Practitioner
AEDP Level 3 Practitioner
Matrix Reimprinting International Trainer

Gary Craig, Jaqui Crooks, Craig Nicosia, Gwyneth Moss, Emma Roberts, Sue Beer, Dawson Church, Carol Look, Mary Sise, Anodea Judith, Nancy Gnecco, Tam Llewellyn, Asha Clinton, Glenn Sobermann, Cathy Folkers, Tapas Fleming, Joey Raines, Richard Bartlett, Sharon King, Susie Shelmerdine, Sasha Allenby, Dick Schwartz, Toni Herbine-Blank and Diana Fosha